Happy Saturday,
I've "Carb Loaded" and I'm ready to burn 2,000 calories on the dance floor tonight.
Hopefully I get some video so I can post up on our site..but till then I have a cool workout for you
A Hardcore Fat Loss workout!
but before I get to that...This morning we had our first BODY BLAST workout..I kicked butt..
I do have some space open if you want to join now and start Monday,
The 28 Day Flat Belly program ends on Tuesday Aug 9th..and we have Multiple 10lbs losers..but I have found that we needed to make a lot of tweaks this month.
I am going to run 1 more 28 day flat belly program with the final round of adjustments..
Start Days will be either Aug 22nd or The 26th..not sure yet.
But if you go left out last month and have talked to people on it and want to get in
You can be the first to join here:
What is it? get all the details on the link above
Hardcore Fatloss Workout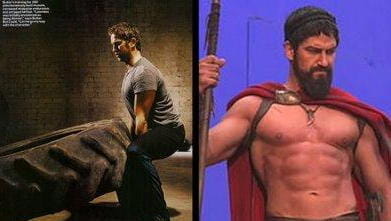 Metcon Circuit- 3 reps of the first 3 exercises and hold the plank 45 sec. Repeat the circuit 2-3 times.

vertical jumps
dumbbell presses
dumbbell reverse lunges
stability ball plank

Metcon Circuit 2- 2 reps short of failure on the first two exercises and 12 reps on the last 3 exercises. Repeat the circuit 2-3 times.

pullup or bodyweight row
bodyweight dip
dumbbell rows
crossbody mountain climber
dumbbell rear delt raises

Finish up with 24/36 cardio intervals (any machine, running or jump rope will do). Alternate between 24 seconds hard work and 36 seconds of recovery until you've worked out for 50-60 minutes total (that includes the metcon circuits).
Have a fit weekend everyone
R